How Can I Become An Influencer In My Market?
3 years ago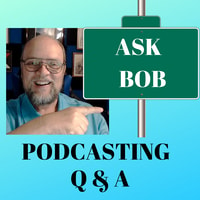 I have been answering the question, "Why Should I Start a Podcast?"  We have already talked about the "Growth of Podcasting" and how "Podcasts Are Better Than Blogs."
Today, I want to emphasize how podcasts will help you to "Become and Influencer In Your Market."
First, when someone listens to your podcast, it is like you are being invited into their home, office or car. You are like a guest. They want to hear what you have to say! That is almost automatic credibility!
Next, reach out to a well known influencer in your market or niche! You may have to ask 10 to find one who will come on your podcast to do an interview. Don't let that get you down.
One major influencer that comes on your podcast will elevate you in your listeners eyes. They figure you are rubbing shoulders with other influencers. Therefore, you must be an influencer as well.
Do not think you will see significant downloads just from interviewing the other influencer. Usually, they will not be sharing anything with your audience that has not been shared elsewhere already. So the influencers audience may not jump at the opportunity to listen to your interview.
But you are interviewing the other person for YOUR AUDIENCE! Always remember that!
Your podcast is a way to grow YOUR BRAND and YOUR INFLUENCE.
So, don't be shy – start your podcast!  
If you want information on how you can start your own podcast, or to help grow and make an existing podcast even better, visit my website at www.podcast-training.comand take a look around.
If you have a podcasting question, send it along to me. You can leave your questions in the comments section below. But a better way of communicating with me and making sure I am able to see your questions rapidly is by using the contact form on my website. Go to https://podcast-training.com/contactand click on the contact tab. Fill out the form and be sure to send me your questions.                                               
If your question is used on this podcast, I will be giving you credit for bringing it to our attention and you will receive a FREE download of my book, "The Complete Guide to Podcasting."  That is a $37 value and you will receive it for FREE if you send along your questions and used on this "ASK BOB" program. If you include your website or podcast information, I will be referencing that as well and putting your information in the show notes of the podcast. 
Who knows, you may see some increased traffic to your website, your podcast, etc. just from asking a question.  If I get asked the same question, the first person to ask it will be getting the credit. 
So IF you have a question, don't wait!  Ask today. Just go to
https://podcast-training.com/contactand fill out the contact form.
Until next time, "Keep Talking – You're Awesome!"