Why Do I Find This So Difficult to Do?
3 years ago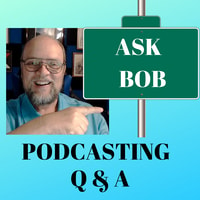 This question was sent to me by Gerald R. (thanks for the question!): "Why do I find this so difficult to do?"
So, I decided to demonstrate that you do not need any special equipment to do a podcast. I recorded this episode on my iPhone while on a morning walk with my dogs!
All you need to do is hit RECORD on your smart phone! I used FB Live in this episode, then downloaded it to my computer and uploaded it here to the YouTube Channel for the podcast. I also converted it to audio mp3 and uploaded it to my podcast website.
SIMPLE! You can do this! 
You do not need special equipment, a studio or anything else. I know of several people that record their podcast episodes from their car with their smart phone! 
YOU CAN DO THIS!
If you have ANY questions about podcasting, please let me know. Send me your questions by using the contact form on our website: www.podcast-training.com or email me directly at bob@bobthibodeau.me
Be sure to SUBSCRIBE to this channel and be notified when new videos are posted here. AND SUBSCRIBE to our podcast on our podcast website at www.AskBobPodcast.com
Until next time - Keep Talking, You're Awesome!