Methods Not To Use To Increase Your Downloads pt 1
2 years ago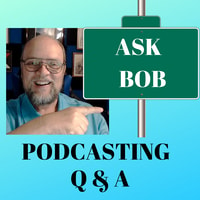 Methods NOT TO USE to
Increase Downloads pt 1
In the last episode, I covered some of the information on the Interactive Advertising Bureau and how the IAB has instituted guidelines for podcasters in relation to their download reporting.
These methods have been widely accepted by many podcast hosting platforms and incorporated, basically industry wide. You would heed well to adhere with the standards if you want to be a podcaster of excellence.
In order to accomplish that, here are some unscrupulous methods that some podcasters used to find popular in an attempt to increase their downloads.
Here is my list of ways you should not use to increase your podcast downloads
1. DO NOT try to update your podcast feed from http to https all at once.
Yes, this is a nice thing to do to update your security protocol. But if you do so for all of your episodes, you will "spam" load every single episode into your subscribers feeds as a new download! The RSS Feed recognizes the URL as "new" (because of that added "s") and will send it out to every single one of your subscribers!
This could cause many of them to cancel their subscription to your show!
2. DO NOT spam your social media platforms many, many times per day in an effort to promote your podcast or your episodes!
Although social media is a great way to promote your podcast, only a few times per day on each of your platforms should be used.
If you are posting 10-15 or 20 times (or more) per day on each platform, you will be considered a "spammer" and may lose followers / subscribers in the process. You may get banned from the platform! DO NOT USE THOSE METHODS!
DO NOT USE THOSE METHODS!
In the next episode, I will cover a few more methods you SHOULD NOT USE before I get into some tried and proven methods you can use!
Please subscribe to this series so you will be notified when a new question has been answered. If you have a question about podcasting, be sure to "Ask Bob" by going to my website at www.podcast-training.com and use the contact form!
If you would like to watch the video I created for this episode, it is available on YouTube at this link: https://youtu.be/Rp8uTR9C9Jo