How Can I Increase My Download Numbers
2 years ago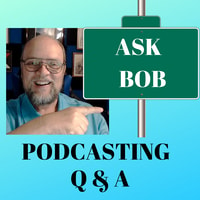 How Can I Increase My
Download Numbers?
Before I get into answering that question, I want to take a couple of episodes to lay a foundation upon which we can build in answering that question. The foundation is one which will help you to focus on ethical ways to increase your download numbers.
First, let me give you some background on recent changes that were made (and implemented across the podcasting industry) that affect how downloads are counted.
Due to the popularity and growth of podcasting, advertisers wanted in on the possible exposure a podcast audience could be given to their services. But, back in 2014, there was no industry standard and an advertiser simply had to rely on the data provided by the podcasters.
In an effort to bring some conformity, the Interactive Advertising Bureau (IAB) came up with some standards that would help in this area. Although they were not mandatory, they released what is known as the "Podcast Measurement Technical Guidelines" (version 1.0 in 2016 and version 2.0 in 2018).
The IAB then implemented a "certification and compliance" program that has now been adopted by the leading podcast hosting platforms. It is now the "industry standard" in counting downloads. The biggest thing you, as a podcaster, should be aware of is this: Any download stat you see means someone listened to that file for at least 60 seconds or more.
If someone clicks off at 59 seconds, it does not count.
This means you should not use "unscrupulous methods" in trying to increase your download statistics. Stay away from scammers who claim they can give you "thousands of downloads for $10" or whatever. Your reputation is more important in the podcasting world than your download numbers!
In the next few episodes, I am going to share a few ways some people are still trying to beat the system. I need to share these with you because you will see them out there. It is important for you to be able to recognize "what not to do" before you start implementing ideas to increase your download numbers.
Be sure to subscribe to this podcast so you will be notified when a new question is being answered! If you have a question about podcasting, go to my website at www.podcast-training.com and "Ask Bob" by filling out the contact form!
If you want to view the video I made for this episode, you can view on YouTube at this link: https://youtu.be/CiQkQ8AcojE