Why I Should NOT Start a Podcast? pt 1
3 years ago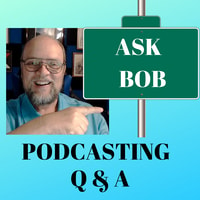 This was a unique question and I thought it was deserving of a somewhat detailed answer!  It seems like everyone is giving information on who needs to have a podcast, why you should have a podcast and how to start a podcast. But nobody is talking about reasons NOT to start a podcast!
Some of the misguided assumptions about people wanting to start a podcast includes fame and fortune. So in this series of episodes, I want to cover some very good reasons you should NOT start a podcast!  If you find yourself wandering down a few of the trails I'm going to identify here, you should rethink your motivation for wanting to start a podcast!
As I covered in previous episodes, podcasting IS the new communication medium for this generation. It is easy to enter. It is fairly easy to produce. It is easy to promote. All of this makes it fairly easy for someone to just "hit record" and they are a podcaster!  But the same accessibility also means there are many, many podcasters out there. And many of them, truthfully, are not that great.
Only the top 1% or so of podcasters every make enough money from their podcasting to be in a position to quit their regular job and live off of their podcast.
Less then 20% of podcasters make "any" money from their podcast!
So if you are looking for a way to add some additional income to the family budget, and quickly, don't go into podcasting! Spend that time working at a part time job and get that extra income quickly that way!
Next time, I will discuss the "Skill and Knowledge Requirements" as reasons "When Should I Not Start a Podcast!"
If you have a podcasting question, send it along to me. You can leave your questions in the comments section below. But a better way of communicating with me and making sure I am able to see your questions rapidly is by using the contact form on my website. Go to https://podcast-training.com/contactand click on the contact tab. Fill out the form and be sure to send me your questions.                                               
If your question is used on this podcast, I will be giving you credit for bringing it to our attention and you will receive a FREE download of my book, "The Complete Guide to Podcasting."  That is a $37 value and you will receive it for FREE if you send along your questions and used on this "ASK BOB" program. If you include your website or podcast information, I will be referencing that as well and putting your information in the show notes of the podcast. 
Who knows, you may see some increased traffic to your website, your podcast, etc. just from asking a question.  If I get asked the same question, the first person to ask it will be getting the credit. 
So IF you have a question, don't wait!  Ask today. Just go to
https://podcast-training.com/contactand fill out the contact form.
Be sure to subscribe to this podcast so you can be notified every time we release a new episode and answer someone's question!
So, until we talk again, "Keep Listening, You're Awesome!"