Why Should I Start A Podcast?
3 years ago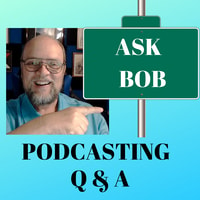 I get this question a lot. So, in the next few video's, I will attempt to answer it!
There is too much to cover in just one video. So you will need to watch the next couple as well to get my answer to "Why Should I Start A Podcast?"
First, podcasting is the new "wave" in media communications.
Second, car makers and even airlines are now offering podcast connectivity to their customers.
Podcasting has an easy entry barrier and allows businesses to build their brand and grow their client list as well.
Podcasting may not be here forever - but it is the growing trend right now!
In the next few episodes, I will go over some additional points that will make this clear to you. I will also explain how you can use podcasting to establish and grow your brand and your business.
If you have a podcasting question, send it along to me. You can leave your questions in the comments section below. But a better way of communicating with me and making sure I am able to see your questions rapidly is by using the contact form on my website. Go to https://podcast-training.com/contactand click on the contact tab. Fill out the form and be sure to send me your questions.                                             
If your question is used on this podcast, I will be giving you credit for bringing it to our attention and you will receive a FREE download of my book, "The Complete Guide to Podcasting."  That is a $37 value and you will receive it for FREE if you send along your questions and used on this "ASK BOB" program. If you include your website or podcast information, I will be referencing that as well and putting your information in the show notes of the podcast. 
Who knows, you may see some increased traffic to your website, your podcast, etc. just from asking a question.  If I get asked the same question, the first person to ask it will be getting the credit. 
So IF you have a question, don't wait!  Ask today. Just go to
https://podcast-training.com/contactand fill out the contact form.
Next time, we will talk about how "Podcasts Are Better Than Blog Posts."
Be sure to subscribe to this podcast so you can be notified every time we release a new episode and answer someone's question!
So, until we talk again, "Keep Listening, You're Awesome!"