Are Podcasts Better Than Blogs?
3 years ago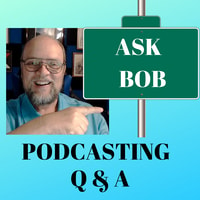 I've been answering the question, "Why Should I Start a Podcast?"
In our last episode, I explained how podcasting has become, in my opinion and backed up by statistical data, the most popular method of communication today. How long this is going to last is unknown, but for right now, if you are not using podcasting to promote your brand and your business, your competitors will pass you.
Now, some people think that having a blog on their website is a way to communicate their ideas, concepts and uniqueness to their target audience. And they are in correct, a blog is ONE WAY to do so.
Several years ago, you needed to have a blog on your website for SEO purposes. But times have changed.
The average blog post is about 700-800 words and takes the average person about 5 minutes to read.
A typical podcast will be between 25-30 minutes in length and the average listener will listen to all of it. That is like having 5 blog posts and the person consuming all of them in one sitting!
Next time, I will discuss how you can "Become an Influencer in your Market" by using podcasting. This is a way of growing your brand that using blog posts would be very difficult to obtain.
If you have a podcasting question, send it along to me. You can leave your questions in the comments section below. But a better way of communicating with me and making sure I am able to see your questions rapidly is by using the contact form on my website. Go to https://podcast-training.com/contactand click on the contact tab. Fill out the form and be sure to send me your questions.                                                
If your question is used on this podcast, I will be giving you credit for bringing it to our attention and you will receive a FREE download of my book, "The Complete Guide to Podcasting."  That is a $37 value and you will receive it for FREE if you send along your questions and used on this "ASK BOB" program. If you include your website or podcast information, I will be referencing that as well and putting your information in the show notes of the podcast. 
Who knows, you may see some increased traffic to your website, your podcast, etc. just from asking a question.  If I get asked the same question, the first person to ask it will be getting the credit. 
So IF you have a question, don't wait!  Ask today. Just go to
https://podcast-training.com/contactand fill out the contact form.
Next time, we will talk about how "Become an Influencer in your Market" 
Be sure to subscribe to this podcast so you can be notified every time we release a new episode and answer someone's question!
So, until we talk again, "Keep Listening, You're Awesome!"