Is Podcasting Cost Effecient?
3 years ago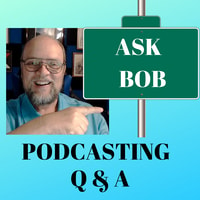 Today, I want address the question, "Is it cost efficient?"
One of the reasons podcasting has become so popular is because it costs little to almost nothing to get started. Compared to traditional radio, podcasting is literally pennies for every dollar that would have spent in traditional radio.
Let me explain it like this…
If you went down to your local radio station and asked them to put you on the radio, they would do a couple of things (believe me, because I've had to jump through those hoops before).
First, they want to know what subject matter you are going to be talking about. They want to make sure it is a good fit for their demographics.  For example, if you wanted to talk about all things concerning the country and western music industry, but you were approaching a hip-hop station or a heavy metal station, they would probably turn you down.
Next, they will want to know the budget you trying to operate within. This will guide them in determining IF they even have a broadcast package that will fit within your budget.
Next, they will offer you a few available time slots. You may want to broadcast from 730-8am and talk directly to the morning rush hour traffic. When people are stuck in their cars. But if they have a morning radio show already scheduled during that time slot, you are not going to get it. And even IF they would consider putting you there, that would also be considered "prime time" and you would pay a heft fee for being able to broadcast in that spot.
You may only be offered a 3-330am time slot for the budget you have in mind. One that will not have much of a listenership but they want to have programming in anyways. They may be opting into a nationwide syndicated program during that time slot. So instead of paying money out, they would rather give it to you so they can have money coming in.
Now, let me just talk about a friend of mine in the Baltimore market.  And this is just one example. He is on the drive time slot I told you about. The morning drive between 730-8am. He has a ONE MINUTE commentary where he talks about current events and Christianity. He is on 5 days per week, Monday through Friday, for ONE MINUTE each day. He is charged $80 per minute!  Even if they gave a HUGE discount and charged him only $800 for a 30 minute program, that would $4000 per week or $16,000 per month.  Is your budget anywhere near $16,000 for prime time in your market? Probably not – mine either!
That is where podcasting comes in!
For less than $50 per month, in most cases, you can have a daily program of any length! Of course, there are cheaper plans – as well as more expensive plans – that you can go with. That is only an example. But $50 per month is a lot better than $16,000 per month!  Don't you agree?
The point I'm trying to make is this:  Podcasting is referred to the "common man's radio program." You can get started for little or nothing or almost nothing. You can increase your budget to whatever level you feel comfortable doing. There are some people that budget thousands of dollars per month to podcasting. There are many who have successful podcasts who spend next to nothing.
So you, you can get started on whatever budget you have – right now!
If you find these videos helpful, please give us a rating and a comment below. It helps others to find this information as well. Thank you in advance for helping us to get the word out!
Over the course of these videos and articles, I want to answer any questions you may have concerning podcasting. You can leave your questions in the comments section below. But a better way of communicating with me and making sure I am able to see your questions rapidly is by using the contact form on my website. Go to