What Kinds of Podcasts Are The Most Popular? Part Two
3 years ago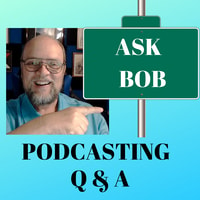 What Kinds of Podcast Are the Most Popular – Part Two
The One on One Interview
The One on One Interview: This is the most common form of podcasting. If you can book an interview with a very well known person who can give tremendous value to your particular niche audience – you can grow tremendously!   There are a lot of podcasters who use this particular format. But, you must be a good interviewer!  
There are many podcasts out there where the host is not a good interviewer, and it shows. I use an interview format on my podcast, "The Kingdom Cross Roads Podcast." I usually take at least as much time to prepare for the podcast as the length of the podcast – and usually longer!
What do I mean by that? If the interview is 45 minutes in length, I usually take an hour to 90 minutes in preparation! I have an interview form that is part of the scheduling process. This form has all the basic contact information, of course. It also asks for the main topic of the interview the other person wants to discuss.
The reason for that, they may be the owner or manager of a huge non-profit that is doing tremendous work. But the person wants to talk about a new book he has just published! So that is what I need to focus on during the interview!  I will, of course, discuss the non-profit and ask a couple of questions along those lines. But it is just to establish background for the authority of the interviewee. THEN, I jump into the questions about the book.
In doing my preparation, I will take the information they provide, including the website, and start there. The best place to look, for me anyway, is the ABOUT ME page! I look for some interesting fact that is on the page that has almost nothing to do with the book, the business or anything else.
Now, don't get me wrong, I do not spend a lot of time on that one question. But I will insert somewhere during the interview!  It may be something like, "One question I have for you, did you really get lost for two days in the jungle while in the Amazon rain forest?"
I usually get a chuckle and a comment like, "Yeah!  That was an awesome time!" or something like that…and then they explain what happened! After the interview, I've almost always been complimented by my guests about the quality of my questions and my interview skills. Some are icons in their areas of influence! They will tell me that it has been a long time since they had someone interview them that had actually taken the time to learn about THEM!
This is how I know I am following my passion for these podcasts. I spend the time to adequately prepare for each guest individually. If I do not have the time to adequately prepare, I will try to reschedule the interview so as not to waste my guests time (which would probably cause them never to come back on again in the future).
You can do this as well. But you must MAKE THE TIME to adequately prepare!
Next time, I will be discussing the Solo Commentary Podcast!
If you find these videos helpful, please give us a rating and a comment below. It helps others to find this information as well. Thank you in advance for helping us to get the word out!
Over the course of these videos and articles, I want to answer any questions you may have concerning podcasting. You can leave your questions in the comments section below. But a better way of communicating with me and making sure I am able to see your questions rapidly is by using the contact form on my website. Go to https://podcast-training.com/contactand click on the contact tab. Fill out the form and be sure to send me your questions. 
If your question is used on this...