What Kinds of Podcasts Are The Most Popular - Part Three
3 years ago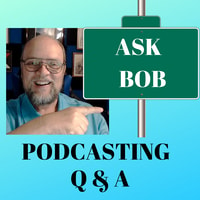 What Kind of Podcasts Are the Most Popular – pt 3 Solo Commentary
The Solo Commentary Podcast:  This is probably the easiest type of podcast you can put together. It is basically the format I am using for this podcast, "Ask Bob." It may be the easiest to do, but is also harder to accomplish. 
Many people are not able to do this type of podcast, because you actually have to carry on a conversation with other people, even though you are talking to nobody at the time!  That is what I'm doing right now. I'm talking to you – even though you are not here with me at this time!  I'm talking to the computer screen! 
Some podcasters will write out the script to use on their podcast commentary. This is ok – but you need to be skillful enough to read without it sounding like you are reading! Nobody wants to listen to you just reading a script on the air!  That would be more like an audio book!  
Personally, I do type out notes that I use to guide my conversation. That way I don't waste time trying to remember what it was I wanted to talk about or forget to mention something I wanted to share. But you must be careful. DO NOT make it seem like you are only reading. 
The best thing about the solo podcast is you can talk about whatever your passion is. I can guarantee you, somebody out there is interested in the same topic you are passionate about as well. It could be car repair, golf, landscaping, crafts – the topics are limitless!
Next time, we will be discussing "Panel Discussions."
If you find these videos helpful, please give us a rating and a comment below. It helps others to find this information as well. Thank you in advance for helping us to get the word out!
Over the course of these videos and articles, I want to answer any questions you may have concerning podcasting. You can leave your questions in the comments section below. But a better way of communicating with me and making sure I am able to see your questions rapidly is by using the contact form on my website. Go to https://podcast-training.com/contactand click on the contact tab. Fill out the form and be sure to send me your questions. 
If your question is used on this podcast, I will be giving you credit for bringing it to our attention and you will receive a FREE download of my book, "The Complete Guide to Podcasting."  That is a $37 value and you will receive it for FREE if you send along your questions and used on this "ASK BOB" program. If you include your website or podcast information, I will be referencing that as well and putting your information in the show notes of the podcast. 
Who knows, you may see some increased traffic to your website, your podcast, etc. just from asking a question.  If I get asked the same question, the first person to ask it will be getting the credit. 
So IF you have a question, don't wait!  Ask today. Just go to
https://podcast-training.com/contactand fill out the contact form.
Be sure to subscribe to this podcast in order to be notified when a new episode is being published and a new question is being answered.
Remember, Keep Talking – You're Awesome!
If you would like to watch the associated video for this article, please click HERE: